A stunning string of residential-to-restaurant conversions has created a captivating area out of the previously somewhat abandoned Chinatown.
Architect Jingbo Lou has taken his own corner of Victor Heights and developed it into a flourishing restaurant hub. He took 100-year-old bungalows and a sliver of the neighborhood and made an inviting area that enthusiastic food lovers can thoroughly enjoy.
The 'Forgotten Edge' of Chinatown, on the first hill north of LA's downtown core and Dodger Stadium, borders Echo Park. The sector is cut off from the majority of Chinatown by the 110 freeway. Its famous name was coined in the early '90s due to a reputation of neglect from local police divisions that were disadvantaged due to district boundary debates.
Now, a cluster of six small residential buildings has become a series of trendy new restaurants at the corner of Alpine and Centennial streets. The culinary hub is being called the 'Alpine Courtyard,' inviting those with exceptional tastes to its door. LA chefs and restaurateurs have pulled out all the stops to fashion exquisite dishes that any palate will appreciate.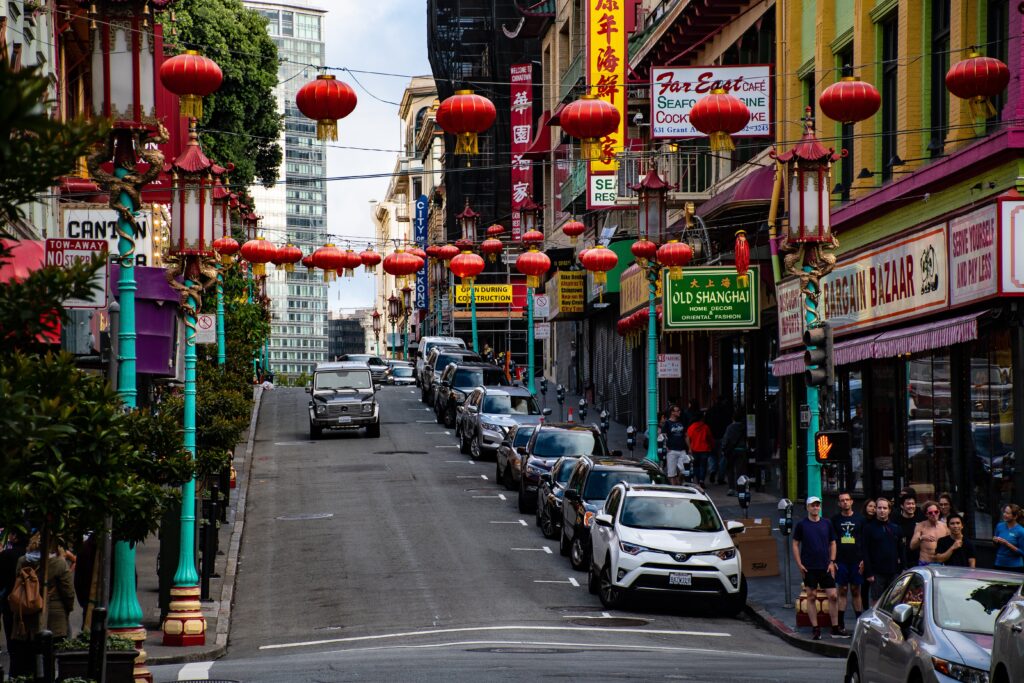 According to Lou, preserving a piece of the city's history is the goal. Restoring buildings that have stood tall for a century brings new life to a neighborhood that used to thrive back in the day. He's rejuvenating the area by adding a beacon of flavorful beauty to the end of a once-forgotten enclave. 
The complex was once set to be torn down for luxury apartments but took a purposeful turn. The neighborhood is mostly residential but is currently experiencing an influx of new developments, pointing to a promising commercial future. What was once a working-class neighborhood is now adorned with condos worth over $1M alongside the old Victorian apartment buildings and bungalows.
Lou hails from Beijing, having moved here in 1991 to pursue a master's degree in architecture and landscape at the University of Southern California. His higher education kick-started his career in LA. Lou spent 2005 to 2012 gaining experience preserving buildings in the area as an architect with Heritage Housing Partners, a non-profit whose mission was to provide affordable homes to low and moderate-income first-time homeowners. In 2014, he handled the preservation of Koreatown's Hotel Normandie.
Lou purchased the property alongside two partners after previous plans for the space fell through. He was proud of the place and his part in maintaining history, exclaiming, "Preservation is not just about the buildings, but also the settings and the culture." According to him, preserving the settings and culture of Victor Heights means reinstituting the commercial fabric of the neighborhood. He provides affordable rent for first-time small business owners, allowing them to showcase their exquisite dishes to connoisseurs in the area. He stated that every tenant of Alpine Courtyard "are in their mid-30s, have accumulated a lot of experience in their fields and were looking for a starting point to open their own businesses."
The deal to develop the plot was finalized in 2019, and Lou has been helping it thrive ever since. The plot was already zoned for commercial business as part of a master plan amendment from 1970 that was set in place due to the plot's proximity to water management district buildings, major freeway interactions, and Elysian Park. Lou plans to maintain the existing layout rather than embark on new construction projects.
PICTURE FROM THE ARTICLE FOR ACCURACY 🙂